Mr. Pompeo – we'll take you up on your offer – since the US gov't seems to be utterly incapable of understanding what is going on.
https://www.zerohedge.com/geopolitical/pompeo-offers-10-million-reward-information-foreign-election-interference
"Pompeo also revealed the state department would offer $10 million reward for the identity or location of "any person who acting at the direction of a foreign government interferes with US. elections by engaging in certain criminal cyber activities."
================================================
Foreign Organizations + Agents Engaging in Election Interference
USIN-PAC http://www.usinpac.com:
• President Sanjay Puri – an agent of the Modi gov't of India.
• Kamala Harris – listed on the USIN-PAC website.
• Cory Booker – listed on the USIN-PAC website.
• Tulsi Gabbard – listed on the USIN-PAC website.
• Prime Minister Narenda Modi of India.
Holland + Knight Lobbyist/Attorney Leon Fresco:
https://www.hklaw.com/en/professionals/f/fresco-leon
Indian American Impact Fund:
Kamala Harris is also associated with this organization.
Republican Hindu Coalition:
Shalabh Kumar (founder)
Mr. Kumar is in fact an unregistered foreign agent of the Modi gov't of India and frequently meets with Prime Minister Modi. Mr. Kumar has also been photographed meeting with several US Senators – including for the purposes of proposing and drafting new US legislation. Kumar is often interviewed on Indian television in India.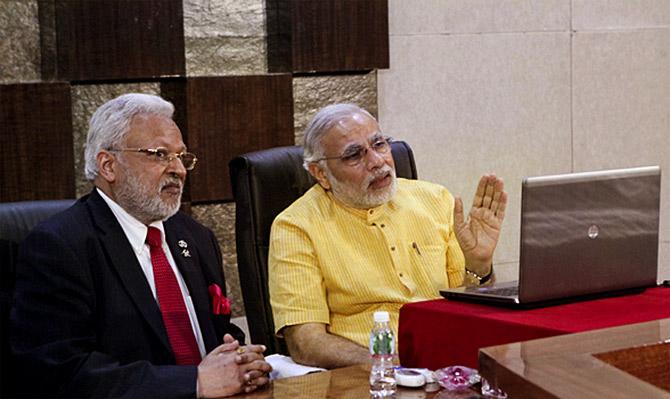 Mr. Kumar has violated the Logan Act by meeting with former US Senator Orin Hatch:
Immigration Voice and UT Senator Mike Lee:
https://www.immigrationvoice.org
Indian Prime Minister Narenda Modi
Mr. Modi is shown below with a foreign agent from India now associated with the Joe Biden presidential campaign. Via foreign agents Modi is interfering in US elections:
Former Senator and Secretary of State Hillary Clinton:
Sundar Pichai – CEO of Google is a Modi agent + engaging in election interference
Additional organizations which may be implicated are:
American Society of Engineers of Indian Origin (ASEI)
Silicon Valley Indian Professionals Association (SIPA)
TiE | Global International Entrepreneurs Organization
GLOBAL ORGANIZATION OF PEOPLE OF INDIAN ORIGIN
Indian American Chamber of Commerce Orlando
Mr. Pompeo, we sincerely hope you will investigate the parties and organizations mentioned above. Foreign control of US elections and politics has reached an all-time high and must be ended now.
For payment, please contact us at the email address shown on our About page.
Thank you.
India Inc Blog