It is illegal under Title 8 of US law to hire even 1 H-1B worker if Americans are out of work.
They're not even admissible to the US – no matter how skilled or unskilled they are.
It's the law.
Job ads that advertise for "H-1B only" are also illegal under US law.
Lots of these websites are violating US law.
techfetch.com itself smacks of crappy India Inc staffing company web design.
https://www.yahoo.com/now/usas-largest-job-board-techfetch-094000509.html
"Mr. Prabakaran Murugaiah, CEO, and Founder of Techfetch, the largest IT job portal in the USA, recalls how Techfetch H1b was his long cherished dream of providing knowledge and resources to all the aspiring students and professionals who wish to make America their home! "Several decades ago, I came to this land of million opportunities from Tirunelveli, a tier-2 city in Tamilnadu, India. As a new immigrant, there was so much I had to learn to live in the US".
…
Doesn't sound too "temporary" to us.
Any inadmissible alien who enters the US on a temporary work or student visa with intent to immigrate is committing a felony under US law.
Tamil Nadu is known all over India as being an enclave of aggressive, even vicious criminals.
…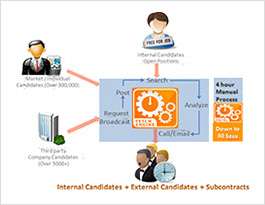 "TechFetch eco system of over 6,000 IT staffing companies give instant access to thousands of consultants for quick onsite short term assignments. Our integrated talent matching technology greatly benefits the large staffing agencies with multiple recruiters, by reducing over 99% of their sourcing time and effort in identifying resumes that most fit a job or project requirement, from among internal as well as external candidates or third party agencies. (More Info)
…
H4 EAD Candidate Resumes | Hire H4 EAD Candidates
Discrimination is also illegal under US hiring laws.
Most of what this website is doing is visa fraud.